REVIEWS
Want to know what our customers think of Lowanna?
We have hundreds of 5 star reviews for our entire natural skin care range. See what our happy customers have to say 👇🏾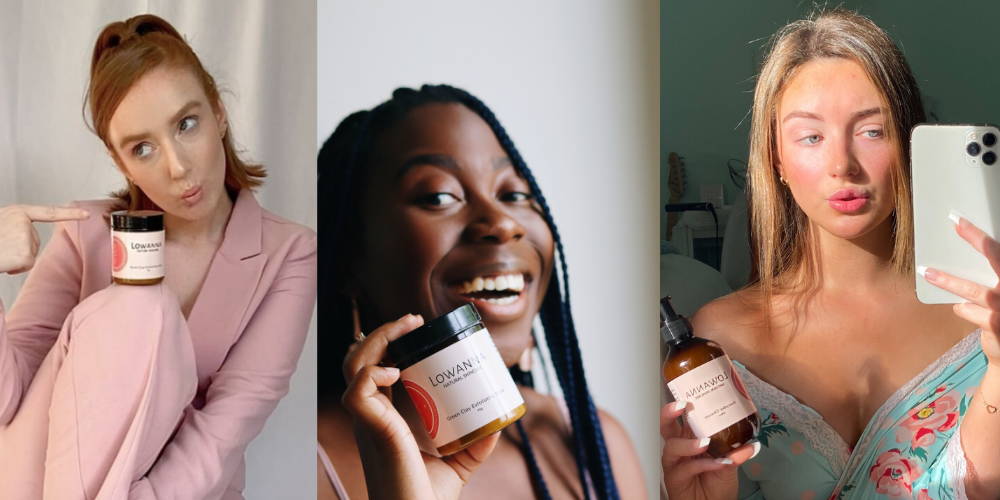 ---
Fantastic! I've been using it (Everyday Routine Bundle) for a week now and my skin feels great! Paired with the green clay face mask every few days I feel like my skin is smooth and glowing. Highly recommend!

Christina S, NSW
11 FEB 2021
Amazing in every way. This is a beautiful moisturiser - my skin is soft and hydrated, it smells divine, absorbs quickly and isn't greasy at all and a little bit goes a long way. Will definitely be ordering again!
Sian J, WA
13 FEB 2021
This moisturiser has a really incredible texture and is very hydrating. It leaves my skin feeling hydrated all day and sit well underneath my sunscreen.

Mel M, VIC
15 FEB 2021
Love the Lowanna skin care products. Beautiful aroma, feels lovely on the skin and I can see a marked improvement in my skin.

Lara M, VIC
23 NOV 2020
I love this product! I am pretty lazy when it comes to my skin but in an attempt to take better care of myself during lockdown I grabbed this exfoliator/mask. It's super simple to mix, and feels great going on. Remarkably easy to wash off (and won't stain your towels!). My skin feels soft and refreshed. An easy step to add to my routine once a week.

Cate M, VIC
25 NOV 2020
The Quandong Mist feels lovely going on and much less wasteful than a toner applied by cotton ball. I have particularly enjoyed using it to freshen up during the day - especially when hayfever has my skin feeling raw and itchy!

Cate M, VIC
2 DEC 2020
My skin is grateful! The mask is wonderful, my skin feels tight and glows after every application!
cannot recommend highly enough!

Imbar N, NSW
5 SEPT 2020
My skin has changed for the better! These products (cleanser, moisturiser and eye cream) have worked so well on my skin and I've received several compliments about how my skin is looking since I've started using them over the past few months. They're natural, cruelty free and recyclable too, which is great. I love them, and am excited to try the clay mask next, just ordered it (confident I'm going to love it too, after how great my other products have been!).
Erin V, QLD
16 SEPT 2020
MY FAV eye cream ever. It smells really nice, feels smooth and I even put some on my brows as I found its helped them grow, all in all very moisturising and hydrating ~~~ thank you.

Mary L, QLD
30 SPET 2020
I love this toner so much! The blackheads on my nose have gotten so clear and I haven't had a single active breakout since I started using it!

Chloe L, SA
31 OCT 2020
Goodbye rosacea! Thank you for this product: the only one I have found that is soothing my mild rosacea! I love the two-in-one exfoliator and mask action as well— saves me time and money! Thanks lowanna

Jess H, ACT
31 OCT 2020
Lovely light moisturiser. This moisturiser is gorgeous! I love the delicate scent and it's super hydrating and absorbs quickly.

Matilda Y, VIC
27 OCT 2020
Amazing moisturiser! My skin is feeling so much healthier!! I'm loving the beautiful fresh scent too, it is now a staple in my beauty kit x
Layla, VIC
5 OCT 2020
Makes this old chook glow! I'm very happy with the face mask. It is easy to use and dries quickly, leaving very smooth skin that glows, even at this late 40s stage of life. It's gentle enough to use a couple of times a week. Truly an impulsive buy that I do not regret!
Rachel L, NSW
6 OCT 2020
Amazing! Smells great and great for dry skin. There's a lot in the samples as well.
Zara H, QLD
3 OCT 2020
Light and lovely. This product is light, non-greasy and cleanses so beautifully. I love the scent that comes from all the natural ingredients. It's incredibly kind to my skin and keeps it blemish free.I love the fact it's cruelty free so all of our critter friends so not have to suffer for beauty's sake.
Libby G, ACT
20 AUG 2020
Thanks to Lowanna I feel like I'm at a day-spa, EVERY DAY. This moisturizer is AMAZING. I was a little nervous because this is the first time I've purchased 'fancy' (i.e. not supermarket/under $10) skincare products but oooooh my goodness, so worth it. I feel like I'm at a day-spa every time I use my Lowanna products (I got the cleanser too) and I look forward to washing my face and wish I needed to more often, ha. Also, you only need the teeniest tiniest bit, and it goes a really long way, so amazing value for money.
Tessa W, TAS
19 AUG 2020
AMAZING!! For me there was lots of things to consider when buying skin care products. I have super sensitive skin, I like supporting small business, I like products to be sustainable and naturally sourced and they need to be affordable. The Everyday Routine Bundle is all that and more!! It makes my skin feel amazing! Smells divine and I just love using it! Thanks for creating such a wonderful product!!
Kate, VIC
5 AUG 2020
Obsessed with this mask! A little goes a lonnnggg way but if you make more than what your face needs, use the residue as a body scrub, unreal!! Gives me such a radiant glow and has helped greatly with some pigmentation and scarring that I have. Purchase! You won't regret!
Molly L, SA
1 JULY 2020
This cleanser is so gentle and thoroughly cleans without irritating my skin. It leaves the skin feeling so soft and smooth, it's a great addition to my skincare routine.
Gloria S, WA
5 JUlY 2020
I have very dry skin and so far this moisturiser has been great. It is light on my skin, smells lovely and provides me with plenty of hydration. I had been plying myself with moisturiser several times a day before I bought this one. But now only once and my skin is soft.
Ashleigh B, QLD
29 JUNE 2020
So heavenly! Currently using the everyday moisturiser and it is stun 👏 ning 👏 So soft and a little goes such a long way!
Jamilla M, SA
⭐️⭐️⭐️⭐️⭐️
19 MAY 2020